Our Team
We are a Canadian, independent, family-run business. Our families and staff are part of the fiber that makes up our local community. Every one of us are committed to serving your needs!
About Us
Wolf Creek Building Supplies is a family owned and operated business. We are well established in our communities of Lacombe, Sylvan Lake and Morinville, serving both contractors and DIYers. We were proudly awarded 'Best Building Supply & Home Centre' our first year in business in 1999 and then in 2019 awarded the 'Best Contractor Specialist Store'.
We have become known to be your one stop shop in Central Alberta. With our knowledge, connections and sister companies we can supply and quote the majority of your construction needs for your new residential or commercial builds. Lumber, finishing, siding, roofing, decking, railing, trusses, engineered floors, insulation, drywall, vinyl flooring and paint are only a handful of items we specialize in.
History
Over 20 years Wolf Creek Building Supplies has been established and God has blessed us richly during it all. Thermo Pro Insulation and Timber Wolf Truss all operated in the warehouse and lumber yard years ago. With growth they have both purchased new locations and are fully operational. In 2016 John and Rob deRegt were approached to buy Rona in Sylvan Lake Alberta. After sometime it was decided to move forward with that purchase. This store is in full operation and focusing on the residential builds and all your DIY needs. One year later John and Rob deRegt were approached to purchase the Castle Building Centre in Morinville, Alberta. Currently we operate with 3 locations across Alberta to service you better! This growth could not have happened without the support of the communities we are in and also the outstanding builders we created business relationships with!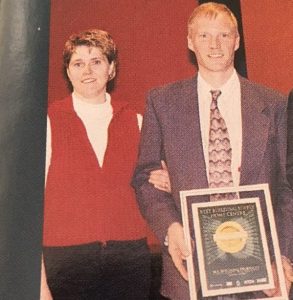 John and Deb deRegt  'Best Building Supply Store' 1999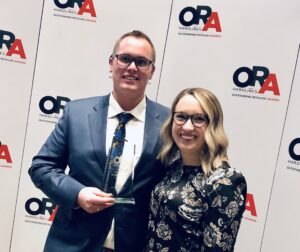 Rob and Michelle deRegt –  'Best Contractor Specialists' 2019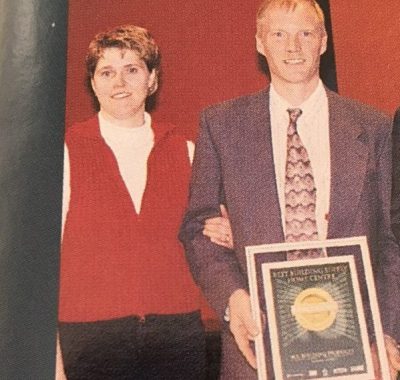 John and Deb deRegt accepting the Best Building Supply Award in 1999
Visit our extensive retail store in Lacombe, Alberta with over 9,000 square feet of building materials including plumbing, electrical, paint, hardware, tools, interior doors & mouldings, windows, and much more. We also boast a seven acre lumberyard of building materials for all your do-it-yourself or building projects. In addition, our 12,000 sq ft warehouse space has all you need for insulation, plywood, drywall, siding, exterior doors, and more. We also carry a full line of treated lumber as well as spruce lumber. 
In 2016, we proudly expanded our Wolf Creek family with another location in Sylvan Lake, Alberta. Another year later, in 2017, we opened our third location in Morinville, Alberta to better serve our customers!
We also have a fleet of delivery trucks from pickups to semi tractors for all your delivery needs across Alberta, British Columbia and Saskatchewan.
With 60,000 products from hundreds of vendors to choose from, if there's something you can't find or need something special, we'd be happy to order it in for you – because that's what neighbours do for one another!
Giving Back to Our Community
We are thrilled to share our blessings with our community! We are proud supporters of:
4-H Club
Big Brothers Big Sisters
Build a Kid for Cure
Building Blocks Thrift Store
Lacombe Rockets Minor Hockey
Ducks Unlimited
Gideons
Habitat for Hummanity
Hospital Lottery
Lacombe Legion
Lacombe Bonspiel
Lacombe Food Bank
World Vision
Word and Deed Ministries
Lacombe Rotary Club
Morinville Foodbank
The Mustard Seed
Youth for Christ
Wolf Creek Family
In an effort to provide you with a one-stop building supply outlet, we have added to our company over the years. As a group of companies we can also offer the following services:

What Our Customers Say
Don't just take our word for it! Read what some of our customers have to say about us!
Our Suppliers
We carry only the best for your building supplies!